Ensure the happiness of survivor beagles, and share it
When I adopted my first beagles, born on a farm in Burgundy, I didn't know  about the thousands of beagles in the world used for scientific experiments who never have real lives. I learned that young beagles are born in cages, grow up in cages, are sent to experimental laboratories, and then are euthanized when no longer useful. I learned that this is a huge, world-wide industry. I also learned that there is an ongoing and vigorous debate about medical experimentation, and deep concern about the ignorance of most people that beagles are being used in this way.
I told my veterinarian that I regretted not having been aware of the situation before adopting my dogs because I could have adopted survivor beagles, instead. He said, philosophically,  « At least, you have made 3 beagles very happy. »
On that day in 2004, I realized that to make 3 beagles happy wasn't enough. It is intolerable that these joyful, docile, sweet, and playful dogs suffer for our "wellfare" and are then killed. Bertrand, Isabelle, and I discussed an alternative we could offer the laboratories, a center to welcome and care for beagles who had lived through experimentation. We then decided to wait to begin until we could devote our energy as entrepreneurs and sufficient material resources to the project, each according to our skills and experience.
Sharing the joy and delight that beagles bring to people
Over a period of 15 years, our commitment evolved along with our knowledge about this breed of dogs we love : we would help captive beagles discover life, and they would then help vulnerable human beings. Because beagles know how to make people happy. By partnering with specific institutions, we would get beagles together with handicapped children, old people, Alzheimer patients… so they could give each other the joy they all deserve.
In 2019, we found the ideal spot for BoB, perfect for beagles and humans: nearly 30 acres  in the heart of the forest, in an area called Puisaye, in l'Yonne, in Burgundy.
This new adventure in our lives began Christmas of 2019.
The House of the Free Beagles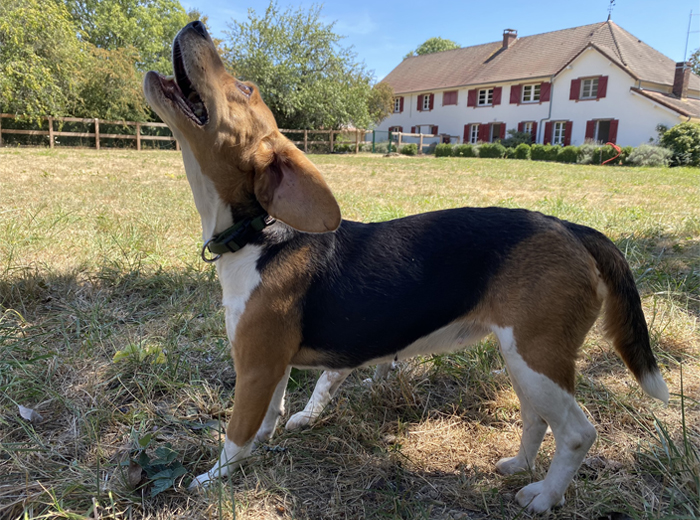 We found a haven for the beagles in the French county, of l'Yonne. The sanctuary features nearly 30 acres of open, inspiring land in the heart of Burgundy that encourages running and playing, and gives the beagles a sense of freedom for the first time in their lives.  The sanctuary also has a cottage specifically designed just for the beagles.
It is not a shelter or a kennel. It is a home, a hearth. It is a House, the House of Free Beagles.
Beagles of Burgundy
is a non-profit organization
3-5 rue de l'Ancien Hôtel de Ville
89450 Vézelay - FRANCE
+33 (0) 6 60 60 21 43 / +33 (0) 6 20 74 12 97
info@beaglesofburgundy.org